Karl Erik Johan Högbom ... has moved to his own domain name karl.amswede.info. You will be redirected in a few seconds.

* 16 July 1888 in Stockholm.
† 20 October 1918 in Tystberga, Nyköping.

Engaged 15 November 1913
Married Cecilia Wiktoria Johnsson 19 February 1916, Stockholms Rådhus.
Daughters: Inga Viktoria and Maj Margareta

Mother: Kristina Katarina * 21 Sep 1853 Maiden name: Bingström
Father: Handlanden Olof Nicklas Högbom * 22 Dec 1862 in Lärbro, Gotland
Sister: Anna Lisa
Brother: Erik Ernst Olof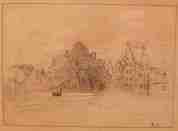 Drawing by Karl from his early 20s.

Created February 2006
Redirect implemented May 2011
birgitta@amswede.info