Photo Studio: Louise Lefren
Storgatan 11 in Stockholm
Storgatan 20 in Stockholm
Claes Erik

Erik Johan Johnsson, Claes Erik's Dad 1906

Cecilia, Claes Erik, Inez, Wiktoria
Young man in uniform

Young woman and two of her siblings?

Young man.
Mystery photo from 1907.
Photo Studio: S. Lundström
Ronneby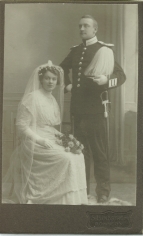 Mystery Wedding
Photo Studio: Normalms Fotografiatelier and Otto Borell
Normalms Fotografiatelier, Barnhusgatan 4 in Stockholm
Otto Borell, Östermalmstorg 2 in Stockholm
Cecilia Wiktoria (Tora), oldest daughter with two unknown girls.

Mystery Photos: Who are Anna and Erik Larsson?

Cecilia Wiktoria (Tora)
Photo Studio: Carl Nyquist
in Stockholm
Frida, Cecilia or Claes Erik's niece.

Who was Rut? Another niece, or a friend of their daughter Inez?

Friends to daughter Inez or relatives?

Created July 2006
birgitta@amswede.com